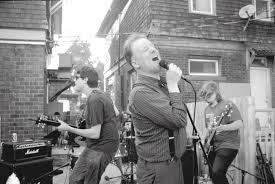 Protomartyr's stunning new album is the perfect antidote to our age of brands and corporations, built on the wisdom of crowds, the narrowing of variation, the killing of privacy and the flattening of experience. It opens up an amazingly rich scope of textures and depths, layers and surfaces, patterns and flow, all channelled through a combination of machine precision and spirited explosiveness.
As in their excellent previous releases, here too guitarist Greg Ahee runs the gamut of 6-string sonic possibilities: from spikey, metallic riffs to spring-reverbed arpeggios to ambient washes to emotive pads to buzzes, swarms and drones to massive and intricate walls of sound. This fascinating sonorous landscape roams around and punctuates singer Joe Casey's signature vocal style, a kind of Mark E Smith with added emotional intelligence and care, the vitriol and exasperation tinged with a heart-breaking lyrical and melodic romanticism.
At times the music recalls the pop experiments of early Smiths and REM: that combination of Rickenbacker guitars, SVT-distorted bass, dry undulating drums and wry charismatic vocals that gives rise to classy songs full of fresh yet tradition-savvy musical ideas, poignant rebelliousness and raw politics. At others it's a punkier affair, the band's anger and desperation brought blastingly to the fore. In the album's best moments, the skewed harmonics, strange structures and ominous atmospherics produce something a lot more odd, personal and other: soaring, rending, poisoned and poised, toxic and intoxicating.
Relatives in Descent starts with a defiant drum roll and ends with the truth trying plangently to reach you. It feels like a bleak walk through blasted, frozen and bare city streets not designed for pedestrians, sleet penetrating down your neck through your inadequate clothing, your Walkman warming your heart. It's a timely yet mythical and epic recording, with intimations of vast historical perspectives, a voyage full of degeneration, resistance and hope. A burning thing of beauty in a moment of real darkness.