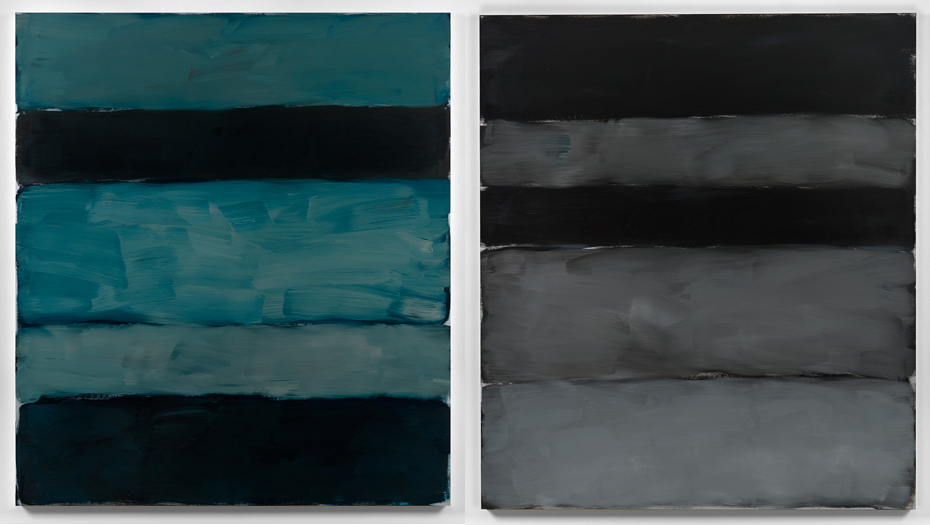 left: Sean Scully 'Landline Blue', 2014. 
Right: Sean Scully 'Landline Grey Grey', 2014. Oil on aluminium

"I was always looking at the horizon line", the painter Sean Scully has said about his recent 'Landline' series, "– at the way the blocks of the world hug and brush up against each other, their weight, their air, their colour, and the soft uncertain space between them." Reading this very shoegazy description, I thought I'd look at some of my current favourites in the genre's firmament through a similar prism, and try to investigate how their guitar sound envisions the blocks of the world and the spaces between them.
Intenna, a five-piece from Indonesia, turn their gaze from the blocks of the world to focus on the soft uncertain spaces between them, portraying these spaces as sites of affectionate leakage. In their music, airy bodies of sound hug each other in near-overlap, producing tender flashpoints and gentle tremors. The sound seems to spill through the interstices and cracks and surge, creating a sense of warm expansiveness.
By comparison, Power Pyramid's blocks of sound seem introverted, tangential, defensive. Racked by inner complications, they simultaneously withdraw and bristle and bulge against their contours, accentuating the wide gaps that undermine their connectedness even as they attempt to reach across them. This is nowhere better exemplified than in that moment in "Gunslinger" when the guitar sounds like a vacuum cleaner in reverse echo, bringing to mind a valve that opens receptively only to retreat and shut back on itself. The Oklahoma band even intersperses the songs on its eponymous mini album with discrete and oblique pieces of sound.
In The Cherry Wave's music, the blocks don't so much hug each other as almost violently collide with one another, producing sparks of feedback, melodic overtones and incandescent solar trails. The Scots' muscular, fuzzed-out sound is a chaotic celebration of shapeshifting bodies and warped space.
Californians Spirit Lapse assemble their aural world in densely stacked layers to create a noisy, heavy and opaque mass of sound. There seem to be no chinks in their sonic armour, except that under the ostensible shields, a great tuneful vulnerability soon shines through.
Finally, fellow Glaswegians Le Thug intimate a whole new way of putting together the blocks of the world. Their music evokes a landscape of technologically enhanced cyborg connectivity, innovative materials with special kinds of interactive flexibility, and nanoparticles whose endless intermingling can only be detected by tomorrow's instruments.