We normally, of course, associate shoegaze music with dense textures, loud volumes and an overload of aural detail. But an exhibition called Near Here by the artist Nina Canell at London's Camden Arts Centre made me wonder whether this must always be the case.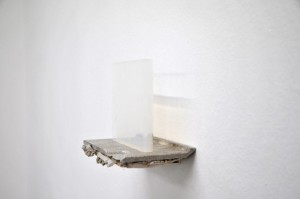 Canell makes low-key, DIY-looking sculptures that bring to poetic life the invisible physical and emotional forces that surround us. Her art is sparse, often fragile and seemingly quiet, but its frayed and open-ended edges, lo-fi roughness and preoccupation with the deployment and interruption of complex networks mean that it conjures up a whole world of buzzing and intermittently power-surging materiality. After spending some time in its quiet company, I felt its presence passing through my body like a hundred trillions neutrinos. I realized it was as prickly, teeming with noise and sensorially immersive as any good shoegaze album. Sure enough, on a reading/listening/watching list accompanying the exhibition, Canell listed a recording by Spacemen 3.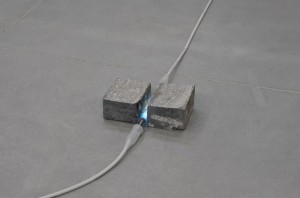 Is there such a thing as sparse shoegaze music? Music that offers us fragments and segments and failed ignitions, and in the silent, empty spaces between them makes palpable a whole world of complexly resonating sound?
Also on Canell's list was the track "Luftspegling" by the Swedish experimental duo Krökta Rum, taken from their 2011 LP Tankar & Syner Del I, which does just that:
Here are some of my own suggestions for sparse shoegaze:
Joy Division, the original purveyors of stripped-down, stark yet evocative spaces of disrupted communication:
Triosk's jagged cut and pasted experiments with lots of white
spaces:
Katamine, who describe themselves as "a quiet noise band":
Cocteau Twins' off-white on white lunar landscapes on "Wax and Wane" from their first album Garlands:
And finally, Bon Iver in the sno
w
w
w