Offering their own interpretation of the introspective evanescence so integral to the shoegaze mindset, Duelectrum seem to barely exist. They are from São Paulo, Brazil, and include Filipe Albuquerque on vocals and guitar, Franklin Weise on vocals and bass, Lucas Lippaus on guitar and Elson Barbosa on drums. Formed in 1999 by Albuquerque and Weise, the band have released only 3 Eps and one single. Their new record, "She Doesn't Feel the Sun" (out now on Sinewave), is their first release since May 2011. Sophisticated and singular, it offers the sound of a band imploding into their own sense of history.
With their phantom-like, semi-live quality, Duelectrum's songs sound like monotypes – images painted on a smooth, non-absorbent surface and then transferred onto a sheet of paper using a printing-press. Monotypes show only a reflection – quick, dim, and strangely wrong-sided. They are a unique print which, in the process of being made, destroys its own original by removing all the ink from its surface.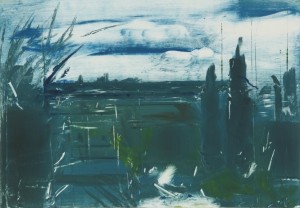 Meir Appelfeld, "Untitled"
Duelectrum's 2011 single "Chocolate Love" managed to evoke both an open-top drive to somewhere really beautiful, and being stuck in traffic on your way home at the end of a drizzly workday when it's already dark at five in the afternoon and you know you have no food in the fridge. It sounded like Ian Brown fronting a Stone Roses on a major comedown.
The title track of the new Ep rolls along purposefully on its Krautrock foundations, steeped in warm retro sounds and old-school notions of experimentalism. Its alternative version brings to the fore the emotive vocals and anguished guitars. Meanwhile, the beautifully named and enchanting "Trembling Blue Stars" sounds like it's sung by an Ian Curtis so tired and despondent he can't even get it together to be angsty.
Duelectrum's tuneful songs, motoring drums and melodic bass lines are engulfed in a dense and gritty guitar fog. They sound like Disco Inferno playing Hüsker Dü songs while listening to Codeine and Sonic Youth. Yet through all the gloom, the audio blotches and the sonic smears, hopeful glares of luminescent sound frequently blossom like untold light years in a stranded astronaut's peripheral vision.
"Perfect for sleeping or driving a car at night", wrote the person who uploaded one of Duelectrum's songs to YouTube in 2012. The wondrous thing is that, listening to the band's music, you seem to be able to do both things at once, and survive.