"I like the indefinite, the boundless. I like continual uncertainty" – Gerhard Richter
Continuing my exploration of shoegaze painting, I'd like to write about some thoughts I had on seeing Gerhard Richter's exhibition "Panorama" at the Centre Pompidou in Paris last year. The connection between Richter's painting and shoegaze/post-punk music had first been intriguingly suggested when Sonic Youth chose one of his pictures as the cover art of their 1988 genre-defining album Daydream Nation.
Since the beginning of the 1960s, the German painter had been creating blurred images that evoked the look of soft-focus photography. He would start with traditionally reassuring and optically precise techniques – enlarging a photo by using an episcope, copying it onto the canvas with a draughtsman's skill – and then "spoil" the painting by dragging a dry brush over the still-damp paint, adding obfuscating layers of splattered paint, and using various shading techniques. Perhaps his most shoegazy images were his celebrated grey monochromes, which shimmered with a fuzzy, porous, opaque materiality.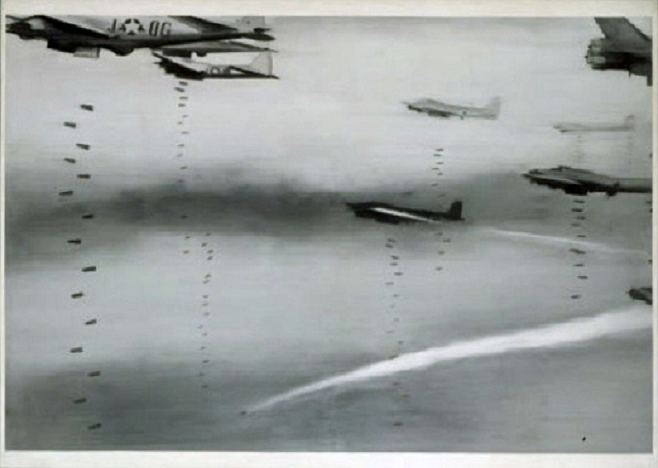 I was moved to find some of these paintings hanging in all their rain-swept glory at the heart of the "Panorama" exhibition. It reminded me that my attachment to all things rainy grey (or in Hebrew 'afor gashum', as my band is not coincidentally called) had some plausible emotional and theoretical underpinnings, and wasn't just a desperate attempt to imagine north European weather in the sweltering heat of Tel Aviv (which it certainly was).
The exhibition suggested that Richter's famous blur came, to a large extent, as a response to the utilitarian and amnesiac pop culture that was quickly gaining prominence in his time. The blur gave Richter's paintings an elusive, constantly changing appearance, which made them look sensual, evocative and alive. It undermined the simple sheen of pop by adding an element of doubt, questioning what could be seen and known, suggesting that things were never clear-cut, but always complex and endlessly nuanced. It recalled that every seemingly flat image enfolds a bleary web of memories and an often obscure history. In the context of Germany of the second half of the 20th century, it was easy to associate the Richterian blur with the ill-addressed presence of a specific murky past. But Richter's work offered a more general expression and critique of the increasingly indeterminate, boundary-blurring, daydreaming reality of his time.
Can't you hear a similar drenching of pop's shiny clarity in overcast tenuousness and evocative complexity in the music of Sonic Youth and the other bands featured in this blog? Aren't they the musical version of Richter's blurry, boundless, continually uncertain painting?