I'd read somewhere that a book called Hearing History: A Reader, edited by the promisingly Fall-esquely named Mark M. Smith, explored the distinction between "American sound" and "European sound". This got me all excited and I chased down the book. Disappointingly, though, it turned out that the relevant chapters were not really about the similarities and differences between the two cross-oceanic sounds, but rather about some of the different attitudes towards sound in the two continents at different points in time. It didn't really have much to do with music, in fact, let alone with shoegaze or post-punk. So I thought I'd hazard some thoughts of my own about this intriguing question.
Having lived in both places and been greatly influenced by bands from both sides of the Atlantic, I've often thought about this question. I've always felt, especially in the kind of music that I'm engaged with, which is so much about ambience and soundscapes, that the difference could be thought about in spatial and geographical terms. I was thinking old world against new world; a more orderly, structured and contained sound as opposed to a more haphazard, sprawling and rambling sound; a tight accent versus a loose drawl. The difference can perhaps be summed up by an exchange between two composers: the American Morton Feldman and the German Karlheinz Stockhausen. Stockhausen had asked Feldman what his secret was. "I don't push the sounds around," explained Feldman. Stockhausen mulled this over, and asked: "Not even a little bit?"
Take for instance one emblematic example: My Bloody Valentine's Isn't Anything and Sonic Youth's Daydream Nation, two groundbreaking albums that came out in the Autumn of 1988. Both records stick to the classic rock quartet of two guitars, bass and drums, and both do something radically new and exciting with this format, especially in terms of the guitar sound. Yet, though both albums plough a generally parallel innovative and adventurous field, the London-based band's sound seems more confined, recursive and compressed than the NYC-based one's. Here are two very different sounds about kissing:
This difference in sound became even more pronounced in the two related but divergent branches of development that the two influential bands spawned in the early 1990s: the Americans were followed by bands like Polvo, Lync and Rodan, the Europeans by bands such as Ride, Slowdive and Lush:
In this context it is interesting to think about Blonde Redhead, who started in the post-Sonic Youth American freeform mould, but over time veered back towards their own non-American origins (Italian by way of Montreal and Japanese) and became progressively less expansive and more tightly-constructed. Interestingly, this move overlapped with their label change from Smells Like Records and then Touch and Go to 4AD. Here's a track from their second album, La Mia Vita Violenta:
In the 1980s, Throwing Muses and Pixies, two indie bands from New England, were considered to be the most European-sounding American bands. Their sound was autumnal, saturated, artsy; they were even signed to the very British label 4AD. But compared to their European contemporaries, even these two "British" bands sounded messy and meandering, with their unexpected song structures and shifting tempos. Their eccentricity was more about unbridled volatility than introverted otherness.
It may also be interesting to consider how a band like The Jesus and Mary Chain made its own, more machine-tooled, claustrophobic and candy-wrapped version of American garage music, or how bands like Spacemen 3 and Spiritualized adopted ideas from Gospel, Blues and garage to create their own minimalistic, repetitive and capsulized music.
Last week, after seeing an exhibition by the artist Lucio Fontana, I thought about all this from a slightly different angle. The Argentina-born, Italy-based Fontana had made his well-known signature works, which he called "Spatial Concepts", in Europe: largely monochrome canvases or papers with scratches and holes and cuts piercing through the pictorial plane. Fontana often talked about the serenity of these seemingly violent pieces, about the expansive cosmic contemplation that they enabled. Then in 1961 he visited New York for the first time, and consequently made a whole new series of works on aluminium, copper and brass, whose metallic shininess reflected the city's characteristic architecture and vibe. Fontana's American spatial concepts had a completely different energy: they were harsher, brasher, junkier, noisier, and somehow shabbier: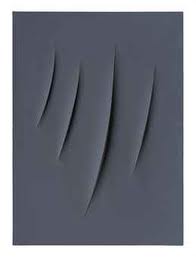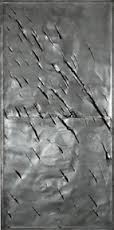 This is all, of course, quite simplistic and reductive, and there are probably plenty of counter-examples, as well as alternative mixes, leaks and crossfades. But when I saw these two pictures overlooking each other in the gallery, they somehow seemed to encapsulate that whole elusive difference between European and American sound.